Último veneno | Last Poisoning
Posted on 17. Jun, 2005 by nando
in chemo, Hodgkins
Hoy estuve en el Dana Farber con Miren y Kalina, mis acompañantes para la que esperamos sea la última sesión de quimioterapia. Fue una sesión como todas las anteriores, aunque creo que duró un poco menos que el promedio, algo así como tres horas (no tres y media). Mis acompañantes me trajeron un poco de comida basura, mientras esperábamos que me acabaran de inyectar los venenos y tenemos esta foto de venenos a un lado, inyectados, y venenos al otro (hasta carcinogénicos deben ser) en el otro.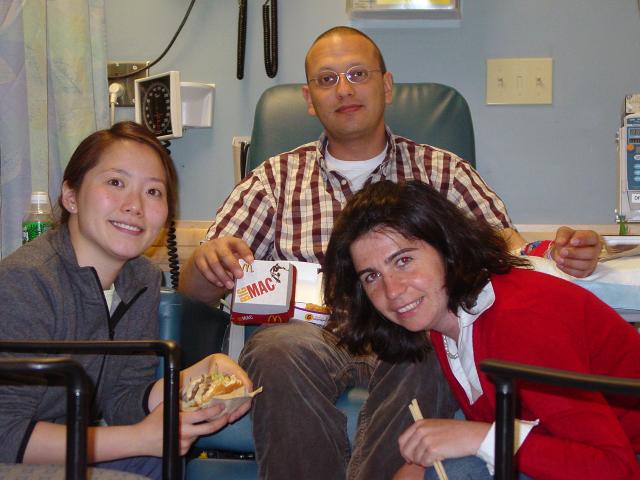 Después del tratamiento, las y los enfermeros se acercaron a darme un ponqué y una botella de jugo de uva (no alcohólico) de regalo y aplaudieron un poco. Un bonito detalle. Para celebrar fui con Miren a ver Batman Begins. Kalina prefirió no ir porque no se estaba sintiendo muy bien. Entonces... celebración... ya se acabó la quimio y sólo queda la radio. El lunes tengo cita con el Dr. Mauch para planear eso. No quiero pensar mucho en eso, hasta que llegue. No sé si será mejor o peor que la quimio.
================================
Today I went in for my last chemo at Dana Farber. Miren and Kalina went with me this time and we even had some fun. It was the usual uneventfull except that at they two brought me some McDonalds food. Look at the picture: poison coming in through the I.V. on the left and poison being eaten with the right (that food is probably even carcinogenic). At the end of the treatment today I was so excited I stood up saying "I'm done," and the nurses came by clapping and gave me a cake and some non-alcoholic beverage. It was really nice of them.
After the hospital, Miren and I went to see Batman Begins. Not a bad movie. Fun, entertaining... that's what you'd expect, right?
Now I only have the radiation therapy left. I will see Dr. Mauch on Monday to plan that. I remember him saying it would be around three weeks and done daily. So much fun! Apparently it will make me tired, but it will not cause nausea. I am also starting to grow my hair back.
So, in short, first part of the treatment is over... 16 weeks of chemotherapy are over. Yay! It is time for a small celebration. No yet complete celebration, but some. On that same note, my room mates and I are having a party on Friday. If some of my readers didn't get the evite, feel invited and drop me a line confirming if you're gonna come, asking for the address, number and time!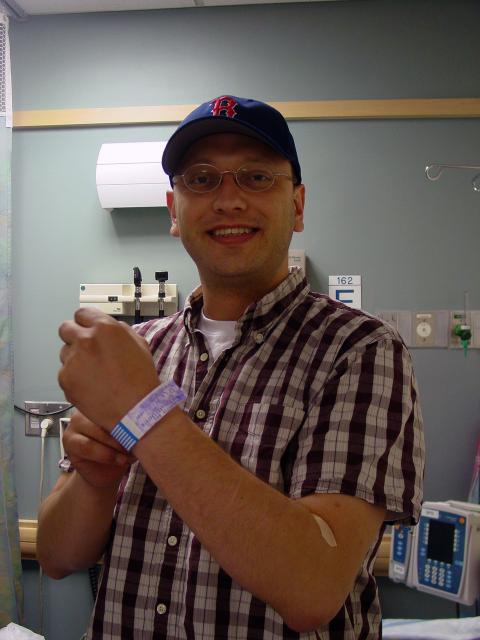 [Pardon the typos, I'll profread tomorrow. | Perdón por los errores, revisaré mañana. Estoy cansado.]